I have something very special to share with all of you. Today is my friend Christi's birthday and this blog post is part of a blog hop created just for her! When her daughter and mother contacted me about participating in this, there was no hesitation on my part and I said YES!! So...
Happy Birthday, my sweet friend! I hope you have an AWESOME day!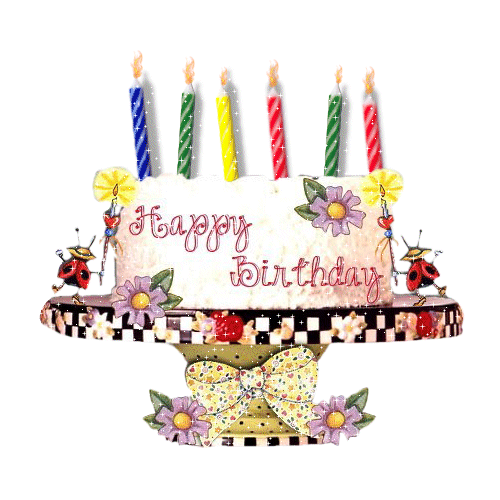 Christi and I have never met in person. We met thru blogging. We discovered that we shared a love of paper crafting and stamping, and we were home schooling moms and our friendship just blossomed from there. Christi and I keep in touch via e-mail. I know if I am having an issue, I can always send her an e-mail and she will answer back with an encouraging message. We pray for each other, we pray for each other's families...It's just a really nice thing we've got going. And I do hope to meet her one day. Christi is very talented too, if you haven't visited her blog,
Blessings on Paper
, make you sure you do because you're in for a treat!
Here is the card that I made for Christi...I wanted to make something feminine and fun, nothing too serious, but I wanted it to be special...like Christi is to me. Those are pearls and yes, I applied each one by hand. I used Copic markers to color my image and added a bit of sparkle on the candles using a glitter pen.



I also included a little goodie. During one of our e-mail chats, Christi mentioned that she liked Dove dark chocolates, so...I sent her 50 of them.





Want to follow along with the Nifty Fifty Blog Hop? Here are some links for you. Enjoy!

1. June Houck http://simplyelegantpapercrafts.blogspot.com/

2. Jeanne Tomshack http://tomshack.blogspot.com/

3. Barb Walker http://thebuzzfromqueenb.blogspot.com/

4. Stacy L http://impressionsofaribbonaddict.blogspot.com/

5. Christi Thorsen http://cici510.blogspot.com/

6. Cammie (Carolyn King) http://myblogbycammie.blogspot.com/

7. Marie Isom http://isomcre8tions.blogspot.com/

8. Mary Ellen Harrison http://abeautifulscrapbook.blogspot.com/

9. Sarah Masteller http://sarahspapertray.blogspot.com/

10. Susan Roberts http://rainy.blogs.splitcoaststampers.com/

11. Jeanette Fincher http://2redbananas.blogspot.com/

12. Elise Durenberger http://mamacowcreations.blogspot.com/



Thank you for dropping by! Have a wonderful Sunday. Until next time...