May you have all the happiness and luck that life can hold, and at the end of all your rainbows may you find a pot of gold.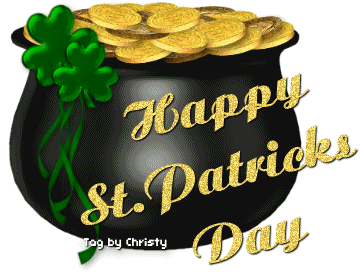 We are gearing up for our St. Patrick's Day dinner...I've got my corned beef going in the slow cooker. The cabbage, carrots and potatoes are all washed and ready to go. I bought a decorated cake and cupcakes from the bakery for dessert. Everyone is always excited about the meal. If you read my post from
last year
, you may recall how the girls balked at the one tradition their dad likes to share...yes! Watching Darby O'Gill and the Little People! LOL!! This year is no different. Oh, well, with one exception...He told them he would take their cell phones away if they didn't watch it without complaint. So...I guess we'll all be sitting by the fire, watching ol' Darby this evening! LOL! Gotta love My Man!
Have a wonderful day!
Blessings~